Diamond Resorts Tournament of Champions Presented by Office of America -- Celebrity Proam
Innauagural Event of the LPGA Tour 2019 Season -- January 17-20
Four Seasons Golf and Sports Club, Orlando, Florida -- Tranquilo Golf Course (Tom Fazio Design)
[Many of the news views and opinions are also on my Facebook page.
LINK.... https://www.facebook.com/nancy.berkley.98
The first 2019 LPGA Tour event is a pro-am -- mid January. The LPGA has never done an event like this before.
---
---
---
---
The following article should appear on the LPGA Women's Network.... here's a preview: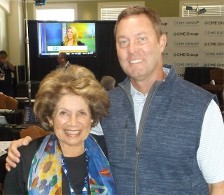 Diamond Resorts Tournament of Champions Presented by Insurance Office of America – January 17-20, 2019
Four Seasons Resort and Golf Club at Lake Buena Vista, Florida - Tranquila Golf Club – Tom Fazio design
By: Nancy Berkley
(What you need to know about the Modified Stableford format that celebrities will use)
LPGA Commissioner Mike Whan in discussing this tournament says: "We are ready to party." And he means it. Mark your calendar, make your travel plans and set your television to record it. Don't miss the first tournament of the 2019 season January 17-20. It's among the most exciting and innovative tournaments of the new season.
The origins of the tournament arose from a conversation that Commissioner Whan had with Mike Flaskey, the CEO of Diamond Resorts, a world-wide vacation and timeshare corporation. According to the Commissioner, the Diamond Resorts CEO asked: "Do you have a party on tour, Mike? You know a place where you celebrate your winners, play great golf all day, but also have fun every night?" The Commissioner answered: "You know, we have some great gala parties and post-tournament parties, but nothing like that."
Mr. Flaskey responded: 'We want to be your week-long party on Tour, the thing that people try to qualify for. We want to take it to the next level, partner with your players, put it on network TV…" And the deal with Diamond Resorts was done! Soon thereafter, the Insurance Office of America also joined as a presenting sponsor.
According to Flaskey, "One thing I love about our partnership with the LPGA and Mike Whan is that they're open-minded and creative. They sit back, listen and say, 'That's a really good idea — what if we do this?' And the next thing you know, you're collaborating."
The result is the very innovative Diamond Resorts Tournament of Champions. It's really two tournaments being played at the same time. The first is a stroke play competition (with no cut) among 36 LPGA winners of 2017 and 2018 LPGA Tour events. Every stroke counts.
The second competition is among invited celebrities who will play golf, but will use a different format – the Modified Stableford. (Read more about the Stableford below.) Each foursome will have LPGA Tour players AND celebrities. How innovative and exciting is that!! For a good description of the event see https://www.golftipsmag.com/travel/tours-and-events/lpga-celebs-team-up-for-diamond-resorts-tournament-of-champions/.
What You Need to Know about the Diamond Resorts Tournament of Champions and the Formats
1. For the LPGA players in each foursome it's an "official" stroke play format – with a $1.2 million dollar prize. The field will include 36 winners from the 2017 and 2018 season. Among the LPGA winners are familiar names such as: Lexi Thompson and XX and XX. [see list at end of article with most up to date list of winner acceptances – Ashleigh -- not sure how you want to list them – don't see a list yet.]
2. The other two players in each foursome will be well-known celebrities from the sports and entertainment world. Included are champions from baseball, football, basketball, tennis, car-racing, music, actors, entertainers, television personalities, and including Mike Flaskey, the CEO of Diamond Resorts. The purse for the celebrity tournament is $500,000. There is also a charity component of the tournament. [see list at end of article of most up to date celebrity golfers]
4. The Key to Understanding Scoring for the Celebrity Tournament: Celebrities will play a "Modified Stableford" format. The Stableford formats are "go-for-it" and "take-a-risk" golf because points are earned for pars, birdies, eagles and holes-in-one. (The Stableford and Modified Stableford both award points for excellent play compared to par on each hole, but no points are deducted in the modified Stableford for poor play – bogey or higher – as is done in the regular - and more penalizing -- Stableford.)
The higher your Stableford or modified Stableford score, the better, which is just the opposite of the stroke play format which rewards player with the lowest score. (Hopefully, the Golf Channel and NBC will make those scoreboards easy to follow.)
In writing for women golfers, I have to be honest and say that the Stableford and Modified Stabelford are NOT "favorite" formats for women. In fact, my guess is that many women reading this article have never played a Stableford. Only one event on the men's PGA Tour uses the modified Stabelford – the Barracuda Championship to be played in July 2019 in Reno, Nevada. See: https://barracudachampionship.com/the-modified-stableford-scoring-format/.
5. Why is the Stableford format not popular with most recreational women golfers? Here's my theory: Most recreational women golfers are already playing on challenging courses (probably several hundred yards longer than they should be). So in order to make birdies, they face a risk/reward dilemma: "Should I risk hitting to that back flag and rolling off the green or into a bunker – especially if I am not expert out of bunkers or with chip shots?" "Or, should I play short and rely on a chip and putt? Women who play recreational golf (millions of us!) tend not to take on the high-risk shots except with our putter.
There are lots of lessons on the internet about how to hit the ball, but few about the mind-set needed to take on risk. One of my favorite golf books: "Be a Player" by Pia Nilsson and Lynn Marriott (with Susan K. Reed) addresses risk in the last chapter and asks "Can we free ourselves to be as good as we can be and enable our authentic greatness to emerge without the whisper of fear, anxiety or negativity?" Perhaps if we played more Stableford formats, our risk-performance would improve?
The Celebrities in the Diamond Resorts Tournament know about risk and will be great to watch. The celebrity athletes know about smart risks – that's how they became so good and so famous. Swinging at a low-ball in baseball, sliding into home plate, pitching (or batting) with a 3-and-2 count, throwing a long pass to a football player in the end zone risking an interception, going for the 3-pointer in a basketball game. These celebrities are masters at risk and this tournament is going to be exciting and fun to watch.
Even the non-athlete celebrities will be fun. Alfonso Ribeiro changed careers many times from actor, singer, comedian and the latest – Dancing with the Stars. Each career move involved risks. Larry the Cable Guy is a famous comedian and refers to himself as "golf's greatest ambassador" (wearing his famous sleeveless shirts – a clothing-risk at most courses).
6. Don't expect celebrities to be novice golfers. I have my eye on country music star, Toby Keith, and love his music. I decided to check his golf handicap. It's 15 and he has his own golf course! And baseball players are supposed to have a "natural" golf swing, so I also will be watching Roger Clemens and Greg Maddux and over 15 other baseball players. Hockey players are also supposed to be good golfers because wielding a hockey stick and swinging a golf club are similar I am told; so, I will follow hockey star Jeremy Roenick. Also competing is celebrity and famous tennis star, Mardy Fish, who began his sports career as a golfer. And how could I forget Larry the Cable Guy who loves golf!
7. One final message: Only one female made the list of celebrities. Blair O'Neal, a fine golfer and a member of the Diamond Resorts team, is a good addition to the list. But, with so many outstanding female celebrities, I'm hoping to see more of them in 2020.
LPGA Commissioner Mike Whan and CEO Mike Flaskey of Diamond Resorts both love fun and a party. That's what they will deliver at the inaugural event of the 2019 season. I'll be there!!
###
---
---
---
---
---
---
HERE'S HOW THE TOURNAMENT WORKS: IN EVERY FOURSOME, THERE WILL BE TWO LPGA WINNERS FROM THE LAST TWO SEASONS AND TWO CELEBRITIES. THAT'S EASY! BUT THE LPGA GOLFERS AND THE CELEBS WILL BE PLAYING DIFFERENT FORMATS.
THE LPGA PLAYERS WILL PLAY REGULAR STROKE/MEDAL PLAY AND JUST ADD UP THEIR STROKES TO DETERMINE THE WINNER -- THE PLAYER WITH THE FEWEST STROKES WINS! (THAT'S EASY)
BUT THE CELEBS WILL BE PLAYING A "MODIFIED STABLEFORD" FORMAT. THEY WILL ONLY GET POINTS IF THEY DO BETTER THAN "PAR" on THE HOLE. HERE ARE POINTS FOR A MODIFIED STABLEFORD: Par (0), Birdie (+2), Eage (+5) -- penalties: Bogie (-1) and a Double Bogie (-3). THE MORE POINTS YOU GET, THE MORE LIKELY A WINNER -- JUST THE OPPOSITE OF TRADITIONAL COMPETITIVE GOLF. The Stableford formats are generally not popular with women golfers and many readers have never played the format. For recreational women golfers, it is the safe and consistent players that usually are winner. The top professional women golfers in this tournament are winners from the last two season and have acieved their victories by taking risks.
SO -- IF YOU TAKE A RISK (FOR EXAMPLE ON A PAR-3, HIT OVER WATER AND LAND ON THE GREEN 6-INCHES FROM THE CUP) AND MAKE AN EAGLE -- YOU EARN 5 POINTS. (BUT IF YOU LAND IN THE WATER, TAKE A DROP, MISS THE GREEN OR MISS YOUR PUTT AND HAVE A BOGEY, FIVE POINTS WILL BE DEDUCTED.
HOW MUCH RISK ARE YOU WILLING TO TAKE? THE REASON THIS IS A GREAT FORMAT FOR THE PRO-AM ATHLETES IS BECAUSE THESE CELEBRITIES ARE FAMOUS BECAUSE THEY DID TAKE RISKS TO BE "STARS". FOR EXAMPLE: HERE ARE RISKS THAT THE CELEBRITIES IN THE DIAMOND RESORT TOURNAMENT HAVE HAD TO TAKE TO BE GREAT IN THEIR SPORT AND EARN A SPOT IN THIS LPGA TOURNAMENT:
In football: Fourth-down conversions are a risk example. Should the team with the ball on the 4th down risk trying to make a first down and keep the ball OR kick the ball down the field (taking the risk that the player is tackled tackled before getting the kick off)
In baseball: "swing for the fences" -- going for a home run (not easy to do -- risk is a "strike out" ) instead of playing a safer hit to make it to first base.
There's a generic sports metaphor coming out of the Olympics: "Go for the gold" - which means giving it all you have. But that often involves an "all or nothing" outcome, where if it doesn't all work out, the likely result is pretty likely to be worse than if one just played good and steady.
---
The word "risk" is probably going to be mentioned often during the Diamond Resorts Tournament. Only if the celebrities take a risk will they generally be able to earn points in this Stableford format. That's a very exciting formula for a tournament.
---
45 "celebrities" -- not all from the sports world - some music stars also -- will be playing competitive golf. The word is that baseball players make the best golfers because their swings are similar. So... I counted up how many of the celebrities are baseball players. almost 25% of the 45 celebrities are or have been baseball players. I can't wait to see if the theory is right. Hockey players also are supposed to be good golfers. LPGA Mike Whan worked in the hockey industry, but sorry to report only one hockey player, Jeremy Roenick, is in the pro-am. The list of pro-am players --- including singers, song writers and comedians are playing -- are listed below.
ttp://www.lpga.com/tournaments/tournament-of-champions.
Here is the list of 42 celebrities as of December 23, 2018
BASEBALL (18)
Ray Allen, Josh Beckett, Roger Clemens, Mark DeRosa, Josh Donaldson, Terry Fancona, Tom Lavine, Jon Lester, Greg Maddux
Kevin Millar, Mark Muldera, Phil Nevin, Bud Norris, A.J. Pierzynski, Jerry Rice, Ian Purdge Rodriguez, John Smoltz, Tim Wakefield
FOOTBALL (7)
Marcus Allen, Larry Fitzgerald, Carson Palmer, Patrick Peterson, Mark Rypien, Golden Tate, Brian Urlacher
BASKETBALL (1)
Ray Allen
TENNIS (1)
Mardy Fish
RACE CAR (2)
Denny Hamlin, Michael Waltrip
MUSIC (5)
Lee Brice, Colt Ford, Toby Keith, Joe Don Rooney, Cole Swindell
ACTOR – ENTERTAINER – HOST (8)
Larry the Cable Guy, Alfonoso Ribeorp, Rob Riggle, Willie Robertson, Jack Wagner, David Frei, Blair O'Neal
Chad Pfeifer (representing Wounded Warriors) double-amputee golfer.
---