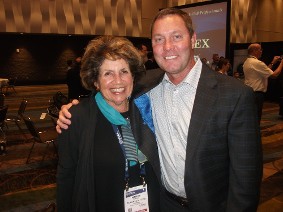 Nancy with LPGA Commissioner Mike Whan
......ABOUT NANCY.....scroll down for COMPLIMENTARY HELP LINE
"Be Happy, Be Healthy, Live Longer, Play Golf" (TM) That's been my marketing message for years! More true today than ever as studies confirm how healthy golf is because it requires mind/body coordination. Look forward for more reports from Europe on medical studies of golfers and increased longevity and health.
My website is different from most websites about women's golf. I don't offer lessons but sometimes direct readers to other websites that do. And I am not just another golf magazine. I share news -- but I also offer my opinions. I write about many different subjects from the new USGA golf rules to whether Michelle Wie's skorts are too short.
But my goal is always to educate and help women understand the game of golf -- whether they play it well or not. I want all readers of my website and especially Nancy's Blog to be educated golf fans. I want all women golfers from young to old, from new golfer to experienced golfer to love the game like I do. And I write about golf fashions because I love them! Every year I visit the PGA Merchandise show to see what's new. I was first to spot "tights" and now "skites" and the trends.
I have played golf for many years! But in addition to playing golf, I have been a member of the Board of Directors, Women's Golf Committees and even the Greens Committee of several golf facilities. I have even invented some golf formats that make playing golf more fun for new golfers or "relaxed" golfers. (Golf can be relaxing -- and not competative. After a busy day, I sometimes just go out on the course at dusk and play a few holes and watch the moon come-up.)
I report the news from the LPGA Tour and enjoy and value a close relationship with Mike Whan, the LPGA Commissioner in photo above, and LPGA Media. And I follow the Ladies European Tour (the LET) as well. I have attended and written about the international competitions and attended and reported on three Solheim Cup tournaments. In addition to this website, I have published on several international websites including www.womensgolf.com published out of Australia.
I became a golfer decades ago inspired by one of the LPGA Founders, Patty Berg, who lived in Minnesota where I grew up. I played golf as a college student, wife, mother, school teacher, lawyer and business executive. And I played more golf after I retired from the business world. One day a friend suggested that I write about golf and explain the rules and the culture so more women would take up the game. And that's how my career as a golf writer began. I wrote the first book for the golf industry about how to make golf more women-friendly. [It all begins when you arrive at the course!]
The book: Women Welcome Here! A Guide for growing womens golf was published by the National Golf Foundation and was the first book of its type. [It is still available at www.ngf.org] The Introduction for that book was written by Suzy Whaley who I had met and spotted as a female golfer that was going to make a difference. Suzy will beome the next President of the PGA of America in 2019. I was right!
I play golf as much as I can -- in competitive matchs and just for fun. I have served on the governing boards and committees of three golf clubs including my current golf club Frenchman's Creek Beach & Country Club in Palm Beach Gardens, Florida.
About my golf: I am what is often called a "bogey" golfer. A "bogey" in golf is one shot over par -what an expert golfer would need from tee to green. On standard women's tees for 18-hole courses (around 4800 to 5200 yards), I usually need one more shot than an expert female "par" golfer would need to reach the putting green. But golf uses the USGA Handicap System which creates a level playing field; so, I play in the major championship matches at my home course. I like relaxed non-competitive golf AND competitive golf.
I follow the LPGA Tour closely and appreciate my relationship and access to various departments of the LPGA, including the LPGA Comissioner Mike Whan. Every year I have been fortunate to interview the Commissioner and ask some hard questions. Women's golf is growing -- globally! I follow the Ladies European Tour and watch closely the impact of women's golf as a "global" sport. I love the marketing message of the LPGA Tour: "A Global Tour Like No Other."
After careers that included teaching, law and business and marketing executive, I retired and decided to offer seminars to new women golfers. One seminar led another and that led me to the National Golf Foundation. One of my proudest accomplishments was writing the first book for golf facility managers and teachers about how to attract more women golfers. Published in 2003 by the National Golf Foundation in Jupiter, Florida, "Women Welcome Here: A Guide to Growing Women's Golf" still is in print and just as current today as it was fifteen years ago.
---
---
---
---
---
WOMEN'S GOLF DAY -- MARKETING CONSULTANT -- 3RD ANNUAL JUST COMPLETED JUNE 5, 2018
Don't miss out www.womensgolfday.com for 2019
Womens Golf Day -- One day women golfers all over the world have a four-hour golf experience. The event began in 2016 and was created/invented by Elisa Gaudet, marketing consultant and executive.. The four-hour events begin in Australia and ends in Hawaii. See www.womensgolfday.com
I am a marketing consultant for the event. Pictured below are Elisa and me at an event at the January 2018 PGA Merchandise Show where we were joined by Annika Sorenstam and several other leaders of the golf industry to promote the event.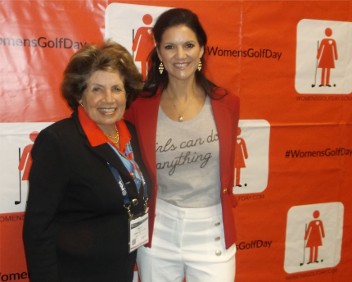 Nancy with Elisa Gaudet
---
---
---
Have a Question?.....NANCY'S COMPLIMENTARY HELP LINE ...............
If you have a question that I can answer in about fifteen minutes or less, please email me at nancyberkleygolf@gmail.com.
I am not a golf instructor but can help you find instructors in your area as well as lead you to many websites that offer instruction.
If you have a question about starting a new line of women's clothing, I have knowledge of that as well.
If you want to help your golf club be more women-friendly, I love that question!
I have helped students studying sports-marketing and even high school students writing reports.
If you are looking for better events at your golf facilities or manage a womens-guest day, I have lots of ideas about that.
JUST EMAIL ME WITH YOUR QUESTIONS. IT'S MY WAY OF GIVING BACK TO THE GAME.
---
---
---

.............Publications by Nancy Berkley..........
WOMEN WELCOME HERE! Comprehensive self-help book available for golf professionals, golf facility managers, event planners, and women's associations about how to grow the number of women golfers and rounds and revenues.
Foreword by former President of The PGA, Commissioner of the LPGA and Suzy Whaley LPGA and PGA Professional. Published 2003 by the National Golf Foundation. Available from www.ngf.org ($50 non members) http://www.ngf.org/cgi/catalogsearchdetail.asp?ITEMNUMBER=99GCM14&CategoryID=13&Keyword= and www.ngcoa.org (special pricing) and www.graa.org. For an outline of the chapters, contact Nancy Berkley.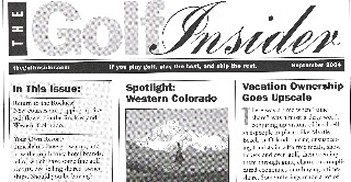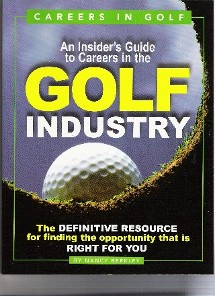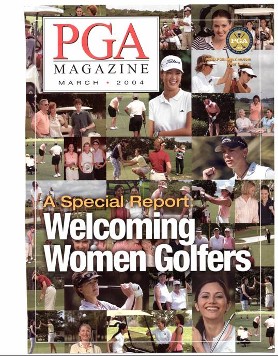 Special cover story in PGA Magazine. Available through The PGA and PGA Magazine


Written for high school and college students, this is most current book about CAreers in the golf industry. Published 2001 by The National Golf Foundation. Featured on www.juniorlinks.org (USGA-sponsored). Available from the National Golf Foundation. www.ngf.org.


For many years, Nancy was the women's columnist for The Golf Insider -- an international golf and travel newsletter. She reviewed courses in the U.S., France and New Zealand. Although she reviews how the courses play from all the tees, she is particularly aware of how women's will enjoy them from the forward tees. The Golf Insider was purchased and continues on as a great travel guide and golf trip planner. See https://www.golfodyssey.com/public/department13.cfm


---
---
---
...............About My Consulting Services...........

To help personalize it to your situation, I provide on-site consultations and online or reviews of your marketing materials. The fees are based on the services your company requests and are reasonably priced. For women golfers, Nancy offers several types of Introduction to Golf programs -- especially successful with new women golfers. Following is a description of basic consulting services. If you have a quick question, use the FREE HELP LINE.


OVERVIEW OF CONSULTING SERVICES OFFERED
FOR GOLF COURSE OR RANGE FACILITY

STEP 1 -- TOUR FACILITY AND COURSE
Evaluate pro-shop and locker room from the standpoint of women customers (preferably without advance notice)
Evaluate course conditions, tees, score card, rangers and bag room, rest rooms and other golf course amenities for women.
STEP 2 – GATHER FOLLOWING INFORMATION FROM STAFF (EITHER PERSONAL INTERVIEWS OR FROM WRITTEN QUESTIONNAIRES)

REVIEW:
Current women customers by ages, golf skill level, rounds played, revenues (including junior golf programs)
Lesson offerings for women - practice tee and playing lessons
Tournament program for women golfers
Opportunities for women to find playing partners
Internal and external communications to women
Current promotional materials and marketing to event planners
Competitive facilities
Interviews with members of the women's association (if appropriate)
STEP 3 – MARKET ANALYSIS

Using demographic and market materials provided by the facility or through Berkley Consulting Research, identify market in terms of location and potential customers and marketing partners

STEP 4 -- WRITTEN EVALUATION AND RECOMMENDATIONS
Strengths and weaknesses of current programs for women customers
Opportunities in current segments or in new segments and programs

Recommendations
a) Suggested new or modified programs to improve retention or acquisition of new customers
b) Programs prioritized for difficulty to implement, cost, effectiveness,
c) Working with staff, set base line measurements and goals
ADDITIONAL SERVICES

WORK WITH STAFF TO DEVELOP PUBLIC RELATIONS PROGRAM
DEVELOP ADVERTISEMENT CAMPAIGN
CONDUCT STAFF TRAINING SESSIONS
Note: All proprietary and non-public information gathered will be treated as confidential.
Please call for fee estimates. For on-site consulting, fees range generally from $500 to $1000 with reimbursement of travel expenses. In some cases, consulting does not require on-site visits. Use the COMPLIMENTARY HELP LINE tab on this site to ask questions.
---
---
---
About Nancy Berkley -- Complete Background
(as of February 2018)
Nancy Berkley
Email: nancyberkleygolf@gmail.com
Golf Writer, Speaker, Industry Marketing Consultant with Focus on Women's and Girls' Golf
EDUCATION
1995: Certificate of Professional Management Development, Harvard Business School, Boston, MA.
1982-1985: J.D. Rutgers Law School, Newark, NJ. Cum Laude; Articles Editor, Rutgers Law Review
1961-1962: Masters of Arts in Teaching, Harvard University, Cambridge, MA. Elected to Pi Lambda Theta Honorary Society
1958-1961: B.A. in Political Science, University of Minnesota, Minneapolis, MN. Magna Cum Laude; Phi Beta Kappa
GOLF-RELATED EMPLOYMENT AND EXPERIENCE
Present: World Golf Foundation Women's Committee. Communications committee and website www.lpgawomensnetwork.com.
Present: Marketing Consultant for Womens Golf Day

https://womensgolfday.com

(annual event of 4-hour women's golf events rolling across the globe)
Present: Reporter for

www.womensgolf.co

m -- See interviews with LPGA Commissioner Mike Whan and Reports from the 2015 Solheim Cup and many other articles for both "never-ever" golfers and experienced women golfers.
August 2014: Speaker: Main Stage - PGA Fashion and Demo Experience, Las Vegas -- "What's New for Women Golfers"
February 2014: Speaker: Carolinas PGA Section -- annual meeting -- "A Guide to Growing Women's Golf"
2005 to present: Primary contributor/writer for cybergolf.com/womensgolf (articles listed on website but may only be accessed by Nancy Berkley)

2008-Present: Writer/Reporter/Observer on Women's Golf on www.berkleygolfconsulting.com (also www.nancyberkley.com. Twitter @nancyberkley and @womensonlygolf and @solheimcup. Facebook: Nancy Berkley.

June 2011 – February 2013: Expert Witness for Winston & Cashatt law firm in Spokane, WA representing the Spokane Country Club defendants in a gender discrimination suit: Hieber, Skaer, Van Noy & Christensen v. Spokane Country Club, et. al. Spokane, WA.;

1998-present: President, Berkley Golf Consulting, Inc. [previously: Woman's Only Guide, Inc. (dba Berkley Consulting), Livingston, NJ] to 1998-2008;

Author, consultant, researcher, educator and speaker addressing diverse elements within the golf industry and golfing community. Special focus on growing participation by women and junior-girl golfers and on encouraging facilities to provide women-friendly environments. Most recently an expert witness representing defendant golf club in a gender discrimination case.
CLIENTS HAVE INCLUDED:
The Spokane Country Club -- expert witness for the Club in defending a gender discrimination suit. AND tje following clients:

·

PGA of America

. LPGA Tour
·

World Golf Foundation

·

National Golf Foundation

·

National Golf Course Owners Association

·

Golf Range Association of America

·

Golf for Women

Magazine

·

New Jersey Woman

Magazine

·

The Golf Insider

Travel Newsletter

·

Golfer Girl Magazine

·

Sage Communications

·

Poppy Ridge Golf Club, Livermore, CA

·

Canyon Ranch, Lenox, MA
2010 to Present: Golfwithwomen.com – "Expert" Contributor (a site developed by Arthur D. Little and significant promoter of shorter courses for women)
2010 to present: Founder and editor, Golfergirlcareers.com.
2005-2015: Founding author and contributor, Women's Golf Section, Cybergolf.com.
2005-2014: Contributor, LadiesGolfJourney.com
2000-2003: Contributor and Consultant, Golf for Women Magazine
2006 to 2008: Initial Advisor to Publisher, Chair of Advisory Board for Golfer Girl Magazine. (print publication archived on www.golfergirlmagazine.com)
2007-2009: Contributor and Consultant, Golf for Women Magazine
2002-2009: Advisor "Golden Links Advisory Board" of Corporate Meetings & Incentives; contributor to annual Golf Event issue.
2001-2005: Contributing Editor, The Golf Insider, bi-monthly travel newsletter
PUBLICATIONS
Books
Women Welcome Here! A Guide to Growing Women's Golf

(National Golf Foundation, 2003).

Careers in Golf: An Insider's Guide to Careers in the Golf Industry

(National Golf Foundation, 2001).

Women's Golf Programs that Work: Best Practices and Case Studies

(National Golf Foundation, 1999).
Articles (selected)
Timeline of the History of Women's Golf 1552 to the Present, www.nancyberkley.com

"Advice to Women Who Play Business Golf" www.womensgolf.com (August 2015

"International Crown Ushers in a Brave New LPGA World," (July 2014)

"Why Team USA Lost the Solheim Cup (July 2013)

"Gender Discrimination in Golf - Heads Up," (June 2013)

"LPGA Commissioner Whan Keeps His Promise," (November 2012)

"Records Set at U.S. Women's Open," (July 2011).

"The Time is Now – The Future of Golf at Golf 20/20," (May 2011)

"Olympics in Rio 2016 - 'The Girl from Ipanema' ," (January 2011).

"A Conversation with LPGA Commissioner Whan: The Future of the LPGA, (November 2010).

"Winning Over the Woman Golfer," (April 2010)

"Attention Women Golfers Who Want to Make History," (March 2010)

"For Golf Facilities Wanting More Women Golfers"

(June 2006).

"Countless Ways to Grow Women's Golf Include These Five Suggestions,"

PGA Show News

(January, 2005).
"Special Report: Welcoming Women Golfers."

PGA Magazine

(March 2004)(cover story).
"Golf for Busy Women,"

Golf Business Magazine

(March 2003).
"Invest 36 Hours and Play in Your Corporate Golf Outing,"

Working Women

Magazine (April 1999)b
"Advice for Women Golfers (And It's Not How to Hit the all)" Par Excellence Magazine EWGA Edition 2005 [based on last chapter of 2003

Women Welcome Here

, NGF Publication)
CONFERENCES AND PRESENTATIONS
Industry-Oriented Presentations and Panels (selected):
World Golf Foundation: Committee on Women's Golf: New Inititive composed of a leaders of major women's golf associations and writers charged with developing a sustainable "grow-the-game" for women and junior girl golfers.
Carolinas PGA Seminar "Guide to Growing Women's Golf" -- 400 attendees (2014)

Golf 20/20 – Strategic Golf Industry Conference

: Attendee/participant at all invitation-only strategic industry conference held annually since 2000 and most recently May 2011. World Golf Village, St. Augustine, FL

Panel Moderator: "Summary of Conference" (November 2003).

Panel Organizer and Moderator: "Growing Women's Golf" (November 2001).

PGA of America

-- Seminar for PGA Apprentices in PGA Professional Certification program, topic: Attracting and Retaining Women Golfers, Port St. Lucie, (November 2010)

World Scientific Congress of Golf

, Phoenix, AZ – Panel Moderator: Future of Women's Golf

(March 2008)

PGA of America Educational Conferences,

Orlando, FL, Instructor (January 2004, 2005, 2006)

Golf Range Association of America (GRAA)

– Featured Speaker at conference held in Orlando, FL (January 2005)

Michigan Golf Course Owner's Association of American (MGCOA)

—Featured Speaker at annual conference in Troy, MI (November 2004)

National Golf Owner's Association of America (NGCOA)

– Featured Speaker at their annual conference in Tampa, FL (January 2004)

LPGA 50th

Anniversary Celebration, World Golf Village, St. Augustine, FL (2000), moderator two featured speaker panels that included women involved in the founding, history and ongoing programs of the LPGA and LPGA Tour players.
Player-Oriented Educational Presentations (selected):
Canyon Ranch, Lenox, MA (1998):

"How to Play at Your Corporate Golf Outing," (2000-2002) Sills Cummis Law Firm, Newark, NJ and Riker Danzig law firm, Morristown, NJ

"Golf 101/Golf for Beginners", Park Avenue Club, New York, NY (2000)
OTHER EMPLOYMENT EXPERIENCE
1996-1998: Vice President, Corporate Marketing and Business Integration, Prudential Insurance Company (now Prudential Financial), Newark, NJ.
1994-1996: Vice President, Planning, Enterprise Management, Prudential Insurance Company, Newark, NJ.
1992-1994: Assistant to the Vice Chairman, Prudential Insurance Company, Newark, NJ.
1988-1992: General Counsel, Prudential Mortgage Capital, Prudential Insurance Company, Newark, NJ.
1985-1988: Law Associate, Sullivan & Cromwell, New York, NY.
1964-67: Teacher, Columbia High School, (English and U.S. History), South Orange, NJ
1963-64: Teacher, Ford Foundation Program for Creative Students, Weeks Junior High School (English and Social Studies), Newton, MA.
1962-63: Teacher, Malden Junior High School (English and Social Studies), Malden, MA
GOLF FACILITY MANAGERIAL EXPERIENCE - Board of Directors, Committee Chairman
Frenchman's Creek Beach and Country Club Palm Beach Gardens -- Member 2013 - Present: Greens Committee, Marketing Committee
Banyan Golf Club, West Palm Beach, FL.- Member 1996 - 2013:
Member, Board of Directors (2006 to 2013)
Chair, Golf Committee 2009-2011
Co-Chair, Golf Committee 2007-2009
Member, Golf Committee 2004-2007
Member, Women's Association 1996 to 2008, Secretary and Tournament Chairman
Member – Interclub Team (1996 –present (when available and needed)
Mountain Ridge Country Club, West Caldwell, NJ, - Member 1971 to 2010
Member, Board of Governors 1992-1998
Member, Golf Committee
Chair and Co-Chair, Women's Association
Member Selection Committee for new Head Golf Professional
Member – Interclub Women's Metropolitan Golf Team Matches (1990-2008)
PGA National Golf Club, Palm Beach Gardens, FL -- 1986 to 2013
Charter Member (Golf and Social Sports Memberships)
Women's Association Member (2000 to Present)
Home Owner's Association Maintenance Committee Member (2005 to present)
QUOTED IN: (selected)
USA Today
Wall Street Journal
New York Times
Palm Beach Post
New Jersey Monthly
Crittenden Golf Inc.
NGCOA Golf Business Magazine
Golf Range Association of America Magazine
PROFESSIONAL ORGANIZATION MEMBERSHIP
National Golf Foundation, Jupiter, Florida
USGA
Pellucid Corporation – Golf Industry Research Organization, Buffalo Grove, IL
New York and New Jersey Bars (retired status)
###