BOARDROOM MAGAZINE -- SERVING "DISTINGUISHED CLUBS" www.distinguishedclubs.com (see site for list of clubs & criteria)
LEADERSHIP IN CRISIS -- NOVEMBER/DECEMBER 2020 ISSUE OF BOARDROOM MAGAZINE
By Nancy Berkley
--------
The following interview was a 90-minute zoom interview with the Commissioner in July 2021 -- Covid had distrupted the 2021 LPGA Tour schedule. I have interviewed the Commissioner many times. I have a routine: I send him a list of questions that I expect to ask -- but may ask others. The Commissioner is always so honest and frank. This particular time was unique in the golf world because of the covid-crisis, and it created leadership challenges that the Commissioner had not expected. (I was not surprised to learn months later that the Commissioner was going to resign as LPGA Commissioner and move on. He had climbed a high mountain over ten years, reached its peak, looked around and saw some mountains he had not climbed yet. I have no doubt that he will add leadership and skill and talent and drive and compassion in his next position.
In preparation for the interview I had done some research on covid and pregnancy. The dangers for pregnant mothers and their babies was not actively reported at the time. I shared the information with Mike because a few of the LPGA players could be pregant.. He had not been aware of the risks and immediately was contacting his medical team. Sometimes a question is the most important part of an interview!
Only one Distinguished Club is the host of an LPGA Tour event: Midland Country Club in Toledo, Ohio. I wanted to feature that club and the manager was so cooperative. I decided to make a feature out of it in the article. (I am a member of Frenchman's Creek Beach and Country Club -- also a Distinguished Club. The BOARDROOM magazine publication is outstanding and an honor to be among its contributors.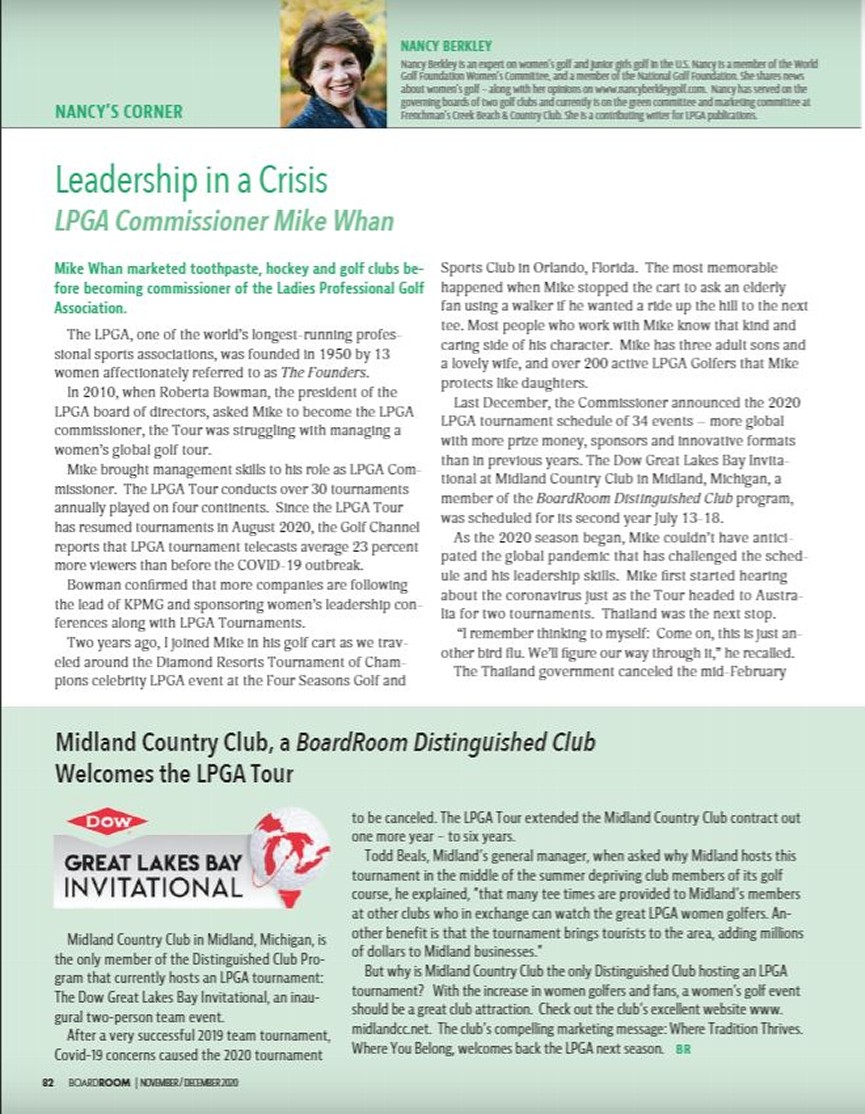 This second page continues the interview with Mike. Special features about Midland Country Club and Roberta Bowman