Picture above: Nancy meeting with LPGA Commissioner in November 2017 in Naples, Florida at the final LPGA Tournament of the Season. Every year, I have a wonderful opportunity to personally interview the Commissioner. Watch for the upcoming article --
Enjoy the article below written several years ago. AND see a more recent article on the same subject: "Why Women Golfers Must be Leaders -- And It's Not How to Hit the Ball at https://www.womensgolf.com/women-golfers-leaders/
---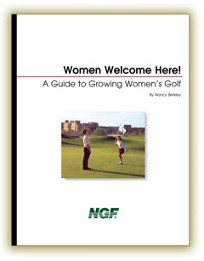 _____________
originally published as
"Advice to Women Golfers --
And, Its Not How to Hit a Ball"
in
"Women Welcome Here: A Guide to Growing Women's Golf
by Nancy Berkley
published by the National Golf Foundation
---
Note: Women have to be leaders themselves. This is one of my favorite articles even though it was written years ago. Readers still ask for reprints and still holds up against all changes in the industry. In fact it is more relevant than ever. Hope you act on its message.
---
INTRO: If you have never played golf, have already given it up or only play a few times a year, you know that the game needs to be more women-friendly. In spite of the many new initiatives and programs for women golfers, the reality is that golf operations will be male-dominated for years to come. Out of the total 30,000 golf professionals in The PGA and LPGA teaching certifications programs, only about 2000 are women. More women are entering all levels of the golf industry – from instruction to manufacturing, but the percentage of women will increase slowly.
Not only is the industry male-dominated, but also women golfers are a challenging marketing segment. Women feel intimidated and need lots of nurturing especially in the beginning of their learning curve. In addition: many women complain that an 18-hole round of golf takes too long and that it's hard to find other women or partners to play with. I sympathize with these responses and validate them as real problems. But I would rather roll up my sleeves to solve the problems than wring my hands about them – and you can't do both at the same time.
WHY WOMEN GOLFERS MUST BE LEADERS
Here's my advice:
· Get Organized. The key to getting things done at a golf course or club is to have designated representatives and some form of women's golf organization – formal or informal. Even if there are just a few women trying to get a program organized, designate a spokesperson – or some interim officer that can communicate with the leadership of the course or organizations involved. Nothing is more frustrating to most golf professionals and less likely to produce change than a dozen women proposing individual suggestions to the pro shop.
· Know Your Friends and Customers. Remember that as a proponent of women's golf, you have to know your fellow golfers -- they are the "customers." Are they just a certain segment – working women for example -- or are you thinking more broadly and trying to organize a weekday morning "golf school" program? Perhaps you want to start a girls golf club or a super-senior (women 65 and older)? Make sure you have talked with your fellow customers about what they want. Knowing your customers will give you the most credibility when you take your ideas to the management.
· Think Beyond Selfish. There are many different ways for women to enjoy this game. You may be a competitive golfer, even though most women are not. You may like 18 holes, while an increasing number of women prefer nine. You may like the new instructor, and others don't. Your role as a leader is to balance your interest with the interest of different segments and somehow make sure that more women golf more and enjoy it more
· Establish Regular Communications And Over-communicate. Don't wait for a problem to arise, think ahead and be pro-active. Set up regular informational meetings with the pro staff (informal – over breakfast, lunch or cocktails) and the women representing various segments of your women's golf community. Make it an open discussion – ask: "What's working well, what's not. Together: Count the customers – how many are playing, taking lessons and improving? How can we make our golf experience even better? How are we measuring our success? Communicate regularly with your fellow women golfers through newsletters and bulletin boards.
· When It Comes To Complaints – Do Your Research. There will surely be complaints and problems. But before you bring a problem to the staff make sure you have done your research. Is this a one-person issue or is it bigger? Are two women complaining that they can't play on a Tuesday, or are there fifty? In my experience, most one-person issues are personality driven. As a golf leader among your women colleagues, don't ask the professionals to solve these kinds of problems. Maybe they have some advice, but try to deal with it woman-to-woman first. Most golf professionals and managers don't like to or want to discipline their customers.
· Use Your Best Communication Skills. It's much better to say, "How can we help the staff handle all the pairings on a Friday morning?" rather than "Why couldn't they get the bags on the right cart last week?" Don't shy away from demanding customer service, but do it without putting the staff on the defensive.
· Be A Public Relations Partner. Whether it's the locker room bulletin board or the local newspaper, be proactive in figuring out the best way to communicate among your fellow women golfers and the larger community. Women golfers bring so many skills with them from their professional backgrounds. There are writers and computer wizards and creative artists. Most golf professionals and managers, on the other hand, came to golf because of their golf skill – not because they know how to take photos for the newspaper and write a press release. Take a role in helping your facility spread the word that this is a "Women Welcome Here" facility.
· Be a Mentor. Take new women golfers under your wing. It generally requires about five to ten on-course friendly, coaching, mentoring experiences offered by a seasoned golfer to a new golfer before that new golfer feels comfortable to go out on the course on her own. Think about how to be a good mentor and encourage your friends to be mentors also.
· Promote Women for Leadership Roles. Figure out what's the best (and most politically effective) plan of action is to get women on the governing boards and important committees of your golf facility or association. Most women-friendly courses have women-friendly top management. I personally have observed that three women on a committee can perform magic – whether it's a committee of 7 or 77.
· Stay Focused, Be Patient And Have A Plan. Don't have too many projects in any one-year. Concentrate on a few at a time. Make a multi-year plan (at least three years) on growing women's golf and measure your progress. What gets measured, gets done! There are many reasons why a program might not work in the first year, but with a little patience and tinkering, the program could become very successful in year two or three. Encourage the staff to be patient with you.
· If all else fails, move on. If you have tried to lead positive change at your golf facility or organization, and continually meet with resistance, move on. There are many golf facilities that want your business. And many ways to enjoy this game.
###